Welcome!
Welcome to Security Control Equipment! We are here to provide all of your Residential & Commercial Security System needs.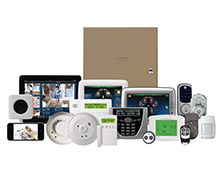 With a Monitored Security system you and your family can relax & sleep easy knowing that your home or business is being monitored twenty-four hours a day seven days a week! We are ready to assist you with your service and to answer any questions that you may have about all of our other services we offer.
Please let us take this opportunity to introduce ourselves to you. We at Security Control Equipment always strive to provide you with the latest technology and the most up-to-date equipment at the lowest possible price, while still providing you with personal and prompt service that you should come to expect with the least amount of inconvenience to your daily routine.
Are you fed up with your current alarm provider, tired of only being a number to big named alarm companies that charge outrageous subscription fees or have you just let your subscription laps and have now grown concerned for the safety of your family and property? Call us today! We are a locally owned, small family operated company, that provides the personal service and support that you have come to expect from your local security provider.
If you would be interested in having your system connected to our state-of-the-art central station so that it will notify the proper authorities of an alarm situation, as well as being monitored for hundreds of other conditions, please contact our office for details.
Tech Login